Introduction to the ENMC's FINANCIAL SUPPORT
With the funding by our supporters, ENMC is able to accomplish its mission of connecting researchers and clinicians and facilitating collaborations within the ENMC network. The larger part of our income comes from the eight NMD patient organisations, which form the ENMC Executive Committee. Furthermore, we developed a group of associated partners which helps the ENMC fund condition-specific workshops and new projects. This secured income of our partners enables the ENMC to organise eight workshops per year. Due to progress being made in neuromuscular research, we have experienced an increased number of submissions in the last few years.
To be able to adjust to this increasing demand for workshops, a new initiative was started in 2015; the ENMC Company Forum. The income from the Company Forum enables ENMC to perform an additional two to three workshops per year and also forms the basis for the Early-Career Workshop Programme and the Mid-Career Mentoring Programme. The Early-Career Workshop Programme allows two to three young scientists to be invited for the ENMC workshop of their choice. The Mid-Career Mentoring Programme facilitates 1-to-1 mentoring of people who already have a proven track record in neuromuscular science but who would like to broaden their leadership and communication skills. We are grateful to the many senior leaders who have offered their contribution as a mentor in this programme.
In addition, sometimes workshops are co-funded by condition-specific patient organisations to cover for travel costs of participants from continents other than Europe. Therefore, it is our top priority to maintain our existing partnerships and start new ones.
If you like to support us as well, please contact the ENMC office at +31-35-5480482 or mail us at enmc@enmc.org.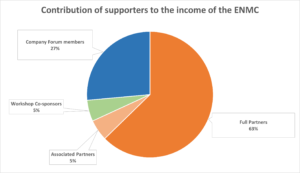 This pie diagram illustrates the contribution of each group of ENMC sponsors. The member organisations (full and associated members/partners of the ENMC) are supporting the ENMC with 70%, whereas the Company Forum members remain under 30% of the total contributions.
With special thanks to Eveline Loriaux from Loriot LSH Compliance and Ethics who has performed a compliance check on the ENMC partnerships with members from the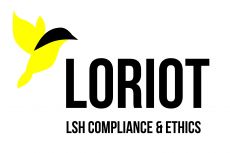 Company Forum.