THEMED WORKSHOPS
In addition to the regular ENMC workshop applications, where topics of the workshops originate from the workshop organisers, ENMC launches a call for themed workshops applications. This programme is set up to prepare the stepping stones for the future by listening to the needs of the neuromuscular patient and research community. With a "Themed Call", ENMC provides workshop funding opportunities for 1 or 2 themed workshops per year, focusing on pre-identified themes which:
are of broader interest to more than one condition (transversal workshops)
require a multidisciplinary approach
are topics and/or diseases that are not often discussed in a workshop and therefore unique
are groundbreaking and strategic and require development of a sustainable platform in the future
Theme of 2021 was: Post-Covid-19: Issues and opportunities for the neuromuscular field  
Learning experiences from the Covid-19 pandemic regarding neurological, psychological, immunological, social, economic, technical etc. aspects for neuromuscular patients in self-isolation and SARS-CoV2-virus infected people who developed neuromuscular symptoms.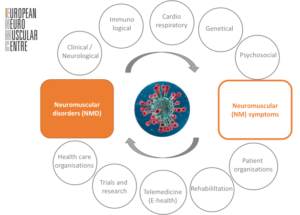 ENMC is:   LISTENING
                                             SERVING
                                                 ANTICIPATING
Themed workshop application by Dr Lowes et al was awarded for a meeting in 2022 with the title: "Remote delivery of clinical care and validation of remote clinical outcome assessments in neuromuscular disorders: a response to COVID-19 and proactive planning for the future".
There is urgency around this topic as it will generate rapid information as guidance for interpreting clinical outcome measure (COA) data collected remotely in currently underway clinical trials. The major aim of this workshop is to assemble international experts to evaluate the utility and validity of conducting remote clinical outcomes assessments for NMD.  Workshop participants will review and discuss experiences to date and available data from prospective studies evaluating the validity and reliability of remote testing.  This will generate a list of action items required to provide guidance on the validity of COAs collected during COVID. The workshop will also consult patient groups to discuss their experience with the remote clinical care and clinical trial participation and preferences for the future. The workshop will explore the validity and reliability of available COA; need for any modifications, re-validation, or novel remote COA development; as well as the feasibility and utility of wearables and other home-based technological assessments. Upon completion a robust action plan and funding strategy is developed to ensure a meaningful and ongoing legacy.
This hybrid workshop took place in the weekend of 1-3 April 2022, in Hoofddorp, The Netherlands.
Next theme(s) will be identified during the first ENMC General Assembly Meeting in April 2023.