THEMED WORKSHOPS
In addition to the regular ENMC workshop applications, where topics of the workshops originate from the workshop organisers, ENMC launches a call for themed workshops applications. This programme is set up to prepare the stepping stones for the future by listening to the needs of the neuromuscular patient and research community. With a "Themed Call", ENMC provides workshop funding opportunities for 1 or 2 themed workshops per year, focusing on pre-identified themes which:
are of broader interest to more than one condition (transversal workshops)
require a multidisciplinary approach
are topics and/or diseases that are not often discussed in a workshop and therefore unique
are groundbreaking and strategic and require development of a sustainable platform in the future
Title: Post-Covid-19: Issues and opportunities for the neuromuscular field  
Learning experiences from the Covid-19 pandemic regarding neurological, psychological, immunological, social, economic, technical etc. aspects for neuromuscular patients in self-isolation and SARS-CoV2-virus infected people who developed neuromuscular symptoms.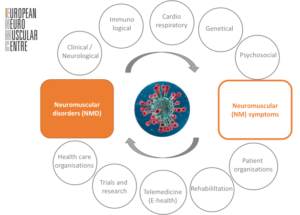 Submission deadline: 30 September 2021
Workshop planning: in 2022
               ENMC is:   LISTENING
                                             SERVING
                                                 ANTICIPATING