INTERVIEW WITH THE FIRST WINNER OF AN ENMC YOUNG SCIENTIST AWARD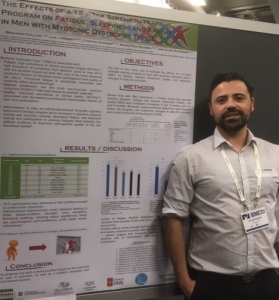 Workshop 207: Respiratory insufficiency in Myotonic Dystrophy.
Who is Benjamin Gallais?
Benjamin is a clinical psychologist (PhD) working at the University de Sherbrooke and at the Clinique des maladies neuromusculaires in Quebec, Canada
Q: What did the ENMC workshop bring you as a Young Scientist? 
A: I really appreciate that ENMC gives the opportunity to young people in the research field to learn from the key experts in the NMD field, to get the privilege to be with all these participants and share my research although they didn't know me! Also the ENMC publications in Neuromuscular Disorders help young scientists to get a clear and good overview, for example the ENMC workshop on pain and fatigue, was very valuable for my research.
Q: What could you contribute to the workshop? 
A: I was the only psychologist in the group, so I could provide a more subjective point of view on all medical topics being discussed, besides the input from the patients that were participating. I presented a literature review on the subjective impact of respiratory impairment in NMDs and shared my PhD research on different segmentation of fatigue and sleepiness symptoms.
Q: What is the greatest asset for a Young Scientist entering the ENMC network? 
A: The relevance for my future research and creating new valuable collaborations, introduce myself and my research to the established network of researchers. I thank ENMC and the Company Forum for giving me this opportunity!