Dystroglycan and Dystroglycanopathies
| | |
| --- | --- |
| Number | 187 |
| Date | 17 November 2011 |
Location: Naarden, The Netherlands
The 187th ENMC workshop on dystroglycan and dystroglycanopathies was held at Naarden, The Netherlands, on 11th – 13th November 2011. Nineteen participants from seven countries (Germany, Italy, Netherlands, Sweden, Switzerland, United Kingdom and the USA) with expertise in biochemistry, cell biology, structural biology, animal models of disease, genetic and clinical aspects of muscular dystrophies, clinical trials and patients' perspectives, attended.
The aims of this workshop were to bring together researchers working on the clinical and basic aspects of the modification of dystroglycan, whether it be in relation to the disease situation in patients, animal models of human dystroglycan-related disease, or cell-based systems addressing the effects of changes or modification of dystroglycan function. Specific issues which were addressed are as follows:-
Factors which may determine if a patient develops central nervous system involvement
Are current models of the dystroglycanopathies appropriate for the study of the disease and are they useful for therapeutic screening.
Can pathways in the cell that send signals that have an effect on dystroglycan provide new insight into the dystroglycanopathies
By combining clinical and basic scientists, and a range of diseases / models / cellular systems, we hoped to provide a platform for the sharing of ideas, reagents, animal models, and to fertilise novel hypotheses and open new avenues of research into these diseases for which there are as yet no forms of therapy. This workshop was the first step in generating a strong working group that is now in a position to lobby and/or bid for future EU Framework research funding, or other such calls.
Specifically the workshop recognised the difficulties in correlating the specific genetic alteration in the patient with the actual disease severity. It was agreed that better diagnostic tools were needed to assess disease severity in patients and model systems, including detection reagents to look at both the amount and the enzyme activity of the affected gene product. Considerable discussion also centred on the idea of dystroglycan as a messenger, delivering signals from the outside to the inside of the cell. The nature of the connection to the outside of the cell, the precise signal pathways activated, and the consequence of the signal generated for the cell – survival, growth, death. The current state of potential therapies including virus-mediated gene replacement and small molecule therapeutics were discussed. Finally a view from a carer of their perspective of dystroglycanopathy and the current patient registry schemes was also considered.
A full report is published in Neuromuscular Disorders (pdf)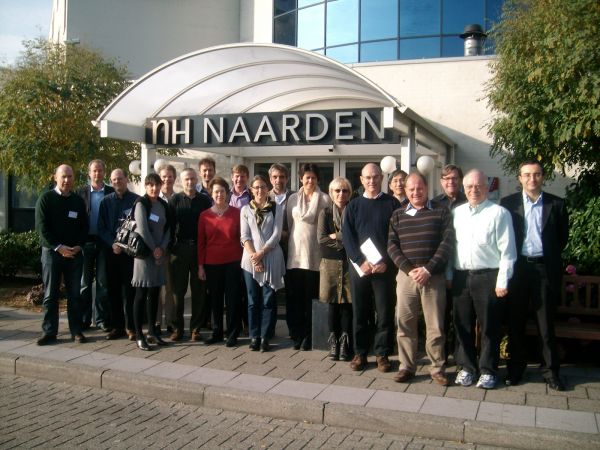 https://www.enmc.org/wp-content/uploads/2018/07/logo-224x300.png
0
0
anymazed
https://www.enmc.org/wp-content/uploads/2018/07/logo-224x300.png
anymazed
2011-11-17 14:25:34
2019-02-03 14:27:56
Dystroglycan and Dystroglycanopathies