| | |
| --- | --- |
| Number | 204 |
| Date | 13 February 2014 |
Location: Naarden
This workshop was co-sponsored by the American Parent Project Muscular Dystrophy, the Dutch ZonMw Association and Genzyme Europe BV
Biomarkers are defined as cellular, biochemical, molecular alterations or features  that are measurable in biological material and that can provide information on physiological or pathological processes. Biomarkers may be used in differential and early diagnosis, and in monitoring of disease progression, regression, or therapeutic response. Duchenne Muscular Dystrophy (DMD) is a severe hereditary muscle disorder due to a wide variety of dystrophin gene mutations and presenting with variable clinical severity.
Recently novel experimental drugs have been developed for DMD and several trials are ongoing, raising the urgent need of having fine tools for measuring the trial outcomes as well as for optimizing the selection of eligible patients. Biomarkers are appealing since may show earlier response to treatment and may not necessarily require invasive sampling, allowing their assessment at multiple endpoints.
This ENMC workshop was focused on biomarkers in DMD and aimed at sharing experience and results among the international Community working on DMD and other neuromuscular disorders. 26 EU and USA experts participated, and among these almost all partners of the BIO-NMD EU project attended. Given the rarity of DMD and other NMDs, this large and intercontinental collaborative cooperation is needed to address this topic, also accordingly to the IRDiRC (ww.irdirc.org) initiative.  Specific representative of regulatory bodies, EMA and FDA, were not present, but the EMA perspectives and biomarkers rules were presented by an EMA-affiliated. The remaining representatives were from academic medical centers from EU and North America.
Duchenne Parent Project representatives (EU and USA) attended. Prosensa and Sarepta Pharma-companies also attended.
The workshop focused on the following main topics:
The need for biomarkers
Setup of biomarker studies
Existing Genomic biomarkers in DMD
Existing Proteomic biomarkers in DMD
Clinical biomarkers in DMD
Complexity of finding biomarkers in DMD : confounding factors, specific phenotypes
Planning the future – Breakout sessions
A comprehensive overview on biomarker research in DMD, highlighting both established and yet unpublished data, was presented. EMA rules and mechanistic pathways underlining biomarker discovery and development were presented clarifying the role biomarkers may have in clinical trials (surrogate/accompanying) or disease stratification (diagnostics/prognostics).
Types of biomarkers, discovery tasks, strategies and clinical applications were extensively presented. A session was dedicated to the already known DMD biomarkers (DNA, RNA, proteins) and their potential role in clinical trials. The utility of biomarkers can be influenced by genetic, phenotypic and environmental factors (disease severity, steroids, mutation types, genetic modifiers) and examples of these and the complexity of their interpretation were presented.
A significant part of the workshop was dedicated on planning the future research to implement some of the early findings on biomarkers into clinical applications. Potential collaborations, the need for early dialogue with the FDA and EMA, and efforts for research harmonization were intensively and fruitfully discussed.
The following conclusions were reached:
Biomarkers are a very timely subject in the study of rare diseases, and much progress has been achieved, especially in the discovery field
The NMD community has defined several exploratory biomarkers that need to be validated in larger patient cohorts
The qualification of biomarkers by the regulatory agencies, and their application in clinical trials is highly demanding (time/cost/effort) and requires cooperation and dialogue between all parties.
The regulatory definition of biomarkers, and the requirements for their use in clinical trials, must be correctly communicated to both investigators and to patient advocacy groups in order to avoid false perceptions of their utility for drug approval.
The role of industry is vital, since in the majority of cases a biomarker may not only facilitate orphan drug designation but may also be concurrent to drug approval. Similarly, if a biomarker is proposed independently of a specific therapeutic agent, the EMA/FDA qualification process may require the industry's effort.
A database should be developed which catalogues ongoing DMD biomarker studies as well as biomaterial that can be shared/used for large validation studies.
RD-connect EU project and IRDiRC initiative are positioned to help organize such a database and disseminate information.
Several collaborations and future common applications for research projects were initiated.
All participants enthusiastically and openly shared data, ideas, critiques and future view, making this a productive WS that achieved its goals and outlined future plans.
We expect that the pursuit of the above will be of  a great value as outcome, in terms of for research and, clinical applications , and will be of for the benefit of patients and their families.
A full workshop report is published in Neuromuscular Disorders (pdf)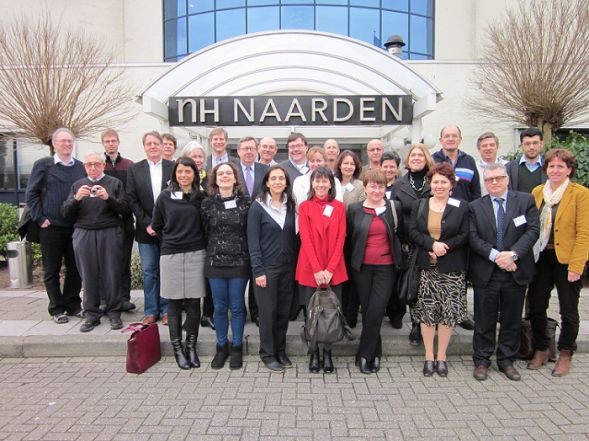 https://www.enmc.org/wp-content/uploads/2018/07/logo-224x300.png
0
0
anymazed
https://www.enmc.org/wp-content/uploads/2018/07/logo-224x300.png
anymazed
2014-02-13 13:15:49
2019-02-03 13:19:16
Biomarkers in DMD