| | |
| --- | --- |
| Number | 110 |
| Date | 25 October 2002 |
A multi-disciplinary group of 13 clinicians and researchers from six countries (Canada, France, Saudi Arabia, The Netherlands, United Kingdom and the U.S.A.) convened for the first time to form an international consortium to study a group of congenital neuromuscular diseases characterized by abnormal eye, eyelid, or facial movement. This group of diseases includes Duane syndrome, congenital fibrosis of the extraocular muscles (CFEOM), Moebius syndrome, horizontal gaze palsy, and ptosis. Although these disorders were previously referred to in the literature under various terms, including 'congenital fibrosis syndromes', we have now chosen to refer to them as the 'congenital cranial dysinnervation disorders' or CCDD. This name reflects our belief that these disorders result from developmental errors in innervation of the ocular and facial muscles. Thus far, members of the consortium have identified 10 CCDD genetic loci and 2 CCDD disease genes (PHOX2A mutated in CFEOM2 and SALL4 mutated in Duane syndrome with radial ray anomalies). During the meeting, a stimulating and broad review of current CCDD research was undertaken, a preliminary CCDD classification scheme was devised, and an International CCDD Consortium was established. The goals of the Consortium are to foster continuing research into the genetic bases of these disorders by identifying new families and affected individuals and by the sharing of genetic resources. Future studies of the CCDD genes should enhance our understanding of the pathophysiology and treatment of these disorders.
An extended report of this meeting is published in Neuromuscular Disorders, Volume 13, No. 7-8, September 2003.
Dr. N. Gutowski (United Kingdom)
Dr. E. Engle (U.S.A.)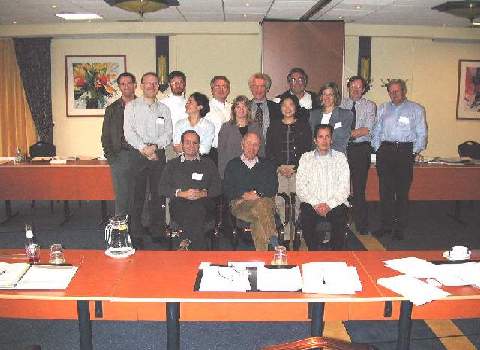 https://www.enmc.org/wp-content/uploads/2018/07/logo-224x300.png
0
0
anymazed
https://www.enmc.org/wp-content/uploads/2018/07/logo-224x300.png
anymazed
2002-10-25 14:09:01
2019-02-03 14:11:16
Congenital non-progressive Ocular Neuromuscular Disorders