| | |
| --- | --- |
| Number | 237 |
| Date | 14 September 2018 |
Loction: Hoofddorp, the Netherlands
Title: The 237th ENMC International Workshop on: "GNE myopathy"
Date: 14-16 September 2018
Organisers: Prof. H. Lochmüller (Germany), Dr A. Urtizberea (France), Dr Z. Argov (Israel) and Dr I. Nishino (Japan).
Translations of this lay report:
Hebrew by Dr Z. Argov
Portugese by Dr T. Evangelista
German by Dr A. Roos
Ukrainian by Dr O. Pogoryelova
Russian by Dr O. Pogoryelova
French by Dr A. Behin
Dutch by Dr M. Huizing
Japanese by Dr I. Nishino
Participants: Dr Z. Argov (Israel), Dr A. Behin (France), Dr N. Carrilo (U.S.A.), Dr M. Davidovich (Israel), Dr T. Evangelista (France), Mrs. M. Hek (The Netherlands), Dr J. Hogrel (France), Prof. R. Hortskorte (Germany), Dr M. Huizing (U.S.A.), Dr S. Krause (Germany), Dr E. Landfeldt (Sweden), Dr M. Lek (U.S.A.), Prof. H. Lochmüller (Germany), Dr H. Mansbach (U.S.A.), Dr S. Mitrani-Rosenbaum (Israel), Dr M. Mori-Yoshimura, Prof. T. Mozaffar, Dr I. Nishino (Japan), Ms. M. Patel (United Kingdom), Dr O. Pogoryelova (United Kingdom), Dr A. Roos (Germany), Dr I. Tournev (Bulgaria), Prof. B. Udd (Finland), Dr A. Urtizberea, Mrs. L. Welsh (U.S.A) and Dr A. Willems (The Netherlands)
GNE myopathy is a rare muscle-wasting disorder caused by mutations in the GNE gene, which contains the instructions to make an enzyme that has a key role in the production of sialic acid in the body. A deficiency of the enzyme in the muscle cells leads to increasing disability from a young adult age in most individuals affected by it. The condition was described first in Israel and in Japan under different names – 'Hereditary Inclusion Body Myopathy' (HIBM) and 'Nonaka Distal Myopathy', nevertheless, it has a worldwide distribution.
There is currently no approved treatment or medication available that would cure the disease or slow the disease progression. A recent, well-controlled clinical trial led by Ultragenyx, did not show significant efficacy for the medication (sialic acid slow release) under investigation.
The workshop participants reviewed the current medical and scientific knowledge relevant to GNE myopathy to achieve a better understanding of GNE myopathy epidemiology, phenotype and genetics. They agreed on a standard of care (SOC) for GNE myopathy patients, discussed the strength and weakness of the currently available animal models, and attempted to improve their understanding of the biochemical consequences of the GNE defect on muscle tissue leading to muscle damage and weakness. Additionally, participants deliberated other potential treatments for the condition such as gene therapy ManAc therapy and stem cell therapy.
The participants committed to provide patient-friendly inclusive information and collect standardized clinical information for further research in accessible formats, which would help to build a robust cohort. They undertook to work collaboratively towards treatments for patients, and to share data and biomaterials. They will make genetic information on rare GNE gene variants available for genetic diagnosis and propose standards of care for GNE myopathy patients.
They concluded that further preclinical and clinical research is required to develop suitable models of the disease in laboratory animals, to identify molecules in blood and muscle of patients to monitor disease progression and response to treatment (biomarker) and to validate clinical endpoints, outcome measures and study designs for future clinical trials. Ideas and actions as to achieving each of these topics were assigned for future research.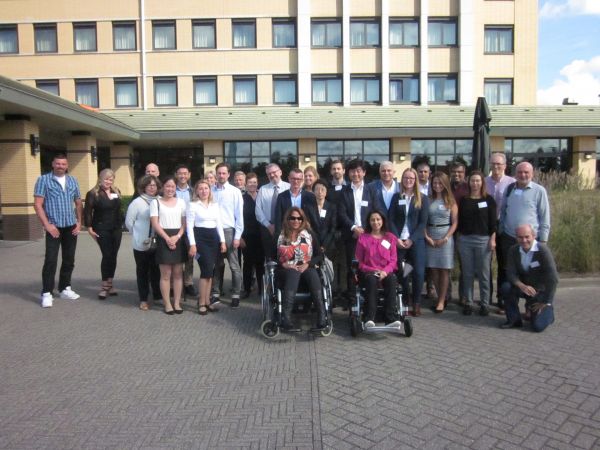 A full report is published in Neuromuscular Disorders.
https://www.enmc.org/wp-content/uploads/2018/07/logo-224x300.png
0
0
anymazed
https://www.enmc.org/wp-content/uploads/2018/07/logo-224x300.png
anymazed
2018-09-14 16:31:45
2019-07-29 13:14:07
GNE myopathy (GNEM)