Management of safety issues arising follosing AAV gene therapy, first (19 March 2021), second (17-19 June 2022)
| | |
| --- | --- |
| Number | 261 |
| Date | 19 June 2022 |
Location: Virtual Zoom Meeting
Title: Management of safety issues arising following AAV gene therapy
Date: 19 March 2021
Organisers: Prof. F. Muntoni, Prof. C. Bonnemann, Prof. L. Servais
Participants: Adjali Oumeya, Mimoun Azzous, Diana Bharucha, Michael Binks, Anna Buj-Bello, Barry Byrne, Manuela Corti, Fadi Fakhouri, Andreas Hartmann, Rebecca Horton, Alex Johnson, Caroline Le Guiner, Federico Mingozzi, Carl Morris, Victoria Palmi, Dimah Saade, Sam Hopkins, Andreas Ziegler, Sherif Gabriel
The European Neuromuscular Centre hosts regular workshops in order to enhance collaboration within the neuromuscular disease field. The 261st workshop, organised by Professors Muntoni, Bonnemann and Servais, covers the safety management of AAV gene therapy. The full workshop, which was originally scheduled to take place between the 19th and 21st of March 2021, has been delayed to the 29th to 31st of October in light of the current pandemic. A short introduction meeting took place via zoom videoconferencing on Friday 19th March 2021.
The overall aim of the meeting is to gather together the stakeholders for transparent sharing of information regarding serious adverse reactions observed after gene therapy administration, in order to work out the best strategy to decrease risk and manage these adverse reactions when they occur.
Participants include experts in the field including pharmaceutical companies, regulators, clinicians, academics and patient advocacy representatives. There were participants from multiple specialities in order to gather the expert opinion on the types and mechanisms of adverse reaction. The group included immunologists, nephrologists and haematologists as well as neurologists.
A review of all of the publicly available information on safety and immunology concerns has taken place and been compiled, and initial results have been shared with participants. A complete report is going to be submitted for publication soon. A framework for information sharing among participants was outlined and smaller work groups were created to outline strategies for monitoring, prophylaxis and risk-mitigation of treatment related adverse events in AAV mediated gene therapy in preparation for the meeting in October.
We hope that this collaboration will make AAV Gene Therapies safer for all patients and de-risk the use of promising therapies for clinicians, investigators and partners in academia and industry.
Location: Hoofddorp, The Netherlands, with virtual participation of a few participants
Title: 261th ENMC workshop on Management of safety issues arising following AAV gene therapy
Date: 17th-19th June 2022
Organisers: Prof Carsten Bonnemann (USA), Professor Laurent Servais (UK) and Prof F. Muntoni (UK)
Translations of this report by:
Italian by Francesco Muntoni
Participants: Dr Alan Beggs (USA); Dr Diana Bharucha (USA); Dr Carsten Bönnemann (USA); Dr Serge Braun (France); Dr Barry Byrne (USA); Dr Manuela Corti (USA); Dr Ana Buj-Bello (France); Dr Jeff Chamberlain (USA); Dr Ana Ferreiro (France); Dr Kevin Flanigan (USA); Mrs Olga Germanenko (Russia); Dr Nathalie Goemans (Belgium); Dr Daniel Grant (US); Dr Sam Hopkins (USA); Dr Rebecca Horton (UK); Dr Marta Kollb-Sielecka (The Netherlands); Dr Caroline Le Guiner (France); Dr Angela Lek (USA); Dr Weston Miller (USA); Dr Carl Morris/ Dr Roxana Dreghici (Solid Bioscience, USA); Dr Francesco Muntoni (UK); Dr Dimah Saade (US); Dr Laurent Servais (UK); Dr Seji Singh (USA); Ms Jeno Van Tienen (The Netherlands); Dr Elisabeth Vroom (The Netherlands); Dr Kathryn Wagner (Switzerland). Mr Frank Van Iperen (The Netherlands)
The 261th ENMC workshop was held from the 17th to the 19th of June 2022, and brought together 28 representatives of patients, advocacy groups, industry, regulators and neuromuscular preclinical and clinical experts from Europe and the United States.
The workshop was devoted to review reports, characterisations and management of emerging adverse events related to the use of adeno-associated viral (AAV) gene therapy vectors for neuromuscular disorders, including those in clinical trials and in approved commercial use. This workshop was originally scheduled to be held in 2020, but due to Covid-Sars-2, it was postponed until it became feasible to have an in-person meeting that could be attended by most participants.
AAV mediated gene therapy approaches have the potential to fundamentally change treatment paradigms for several neuromuscular diseases, with the most advanced example provided by spinal muscular atrophy for which the AAV9-SMN therapeutic (onasemnogene abeparvovec, Zolgensma) has received regulatory approval and is commercially available in many countries and has been given to more than 2000 patients. A number of other AAV gene therapy products are at various stages of clinical development, including in X-linked-myotubular myopathy, limb girdle muscular dystrophy, Pompe disease and Duchenne muscular dystrophy, as well as other rarer neuromuscular conditions. While progress in the development of these products has been striking in the last few years, the field has also seen the emergence of sudden unexpected serious adverse reactions (SUSAR) that tragically also led to the death of some participants. Over time, and with more patients having received AAV therapies for different conditions, different patterns of such adverse events have emerged. A first group is more clearly related to the high AAV viral load and independent on the transgene used. A second one appears to uniquely affect specific conditions, highlighting a previously unknown susceptibility to organ specific injury in some conditions like X-linked myotubular myopathy, which was not anticipated based on several preclinical models. A third group is related to immunological responses to the transgene itself.
The presentations at the meeting addressed the following topics:
-the translatability to human of preclinical models;
-regulatory and ethical challenges, addressed by the three advocacy group representatives and one individual affected by Duchenne muscular dystrophy
-AAV related hepatic and cardiac toxicity cases reports,
-various hematological adverse events and anti-transgene adverse events,
These different aspects were put in perspective with clinical efficacy as it is essential to consider not only the risk, but more broadly the risk / benefit profile of these compounds.
Part of the discussion focused on the monitoring, but also on mechanistic studies to better understand the nature of some of these infrequent adverse events. The conclusion of the discussion is that the different aspects of potential toxicity result from a complex interface between the AAV virus, the transgene used, the specific condition and the specific genotype of the individual patients and their immune status to the AAV capsid and to the transgene, but also underlying co-morbidities, and previous exposure to other infective agents, a complex interplay that is only starting to become understood.
A detailed discussion was held on a specific type of SUSAR observed in a subgroup of DMD patients carrying an uncommon class of mutations, which suggested a cytotoxic T-cells immune response against a specific epitope of the AAV microdystrophin transgene. In this case, the four sponsors involved in the DMD trials agreed to pre-competitively collaborate, forming a working group chaired by academic investigators, and engaged experts from diverse backgrounds to better understand the pathogenesis of this unexpected adverse event, and minimizing risks to future participants.
Such collaborative efforts could represent a model for addressing other emerging "class related" toxicities – i.e. those related to capsid or transgene that are independent of the individual trial/sponsor. This will be important for facilitating and accelerating knowledge of safety signals and developing risk management for patients who may receive gene therapies in the future.
The participants' agreed that this workshop is addressing a timely need, namely to allow AAV mediated gene therapy to proceed safely with procedures in place to anticipate and manage emerging complications. A number of future collaborative options were discussed, ranging from registries of patients treated with these therapies especially if coupled with genomic data, to multisponsor collaboration on class specific adverse events observed across a number of different conditions, and the establishment of more clear protocols for surveillance and management of the more common adverse events.
A full report of the conference is currently under preparation and will be published in Neuromuscular Disorders.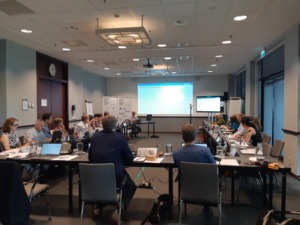 https://www.enmc.org/wp-content/uploads/2018/07/logo-224x300.png
0
0
ENMC
https://www.enmc.org/wp-content/uploads/2018/07/logo-224x300.png
ENMC
2022-06-19 16:23:43
2023-03-31 12:03:21
Management of safety issues arising follosing AAV gene therapy, first (19 March 2021), second (17-19 June 2022)