XIIth International workshop on Congenital Muscular Dystrophy
| | |
| --- | --- |
| Number | 158 |
| Date | 11 February 2008 |
The ENMC Consortium on Congenital muscular dystrophy (CMD) held its 10th meeting in Naarden during the weekend of the 8th-10th February 2008. It was attended by 22 participants from 11 countries, including Australia, Canada, Denmark, France, Germany, Japan, Italy, The Netherlands, Turkey, United Kingdom and USA. The participants were basic scientists with biochemical and molecular biology background, and clinicians and muscle pathologists, all sharing a substantial expertise in neuromuscular disorders.
Congenital muscular dystrophies (CMD) are a heterogeneous common group of disabling neuromuscular disorders almost invariably inherited as autosomal recessive conditions. Affected children present with muscle weakness and hypotonia at birth, or within the first six months of life and motor development is delayed. The severity and progression of the disease is very variable and dependent on the disease subtype. Brain involvement in the form of mental retardation and abnormal formation of different parts of the brain is a feature of several forms of CMD. Thirteen genetic separate CMD subtypes are now recognised, but many mores are predicted to exist.
The present meeting focused on a group of CMD syndromes characterized by deficiency in proteins with enzymatic activity (glycosyltransferases). These proteins all are involved in the process of adding sugars to alpha-dystroglycan, a molecule that plays a central role in the organisation of the muscle fibre. Six defective genes have already been identified in this group of conditions, now also known as "dystroglycanopathies", and are responsible for the conditions known as Walker-Warburg syndrome, Fukuyama CMD, Muscle Eye Brain disease, MDC1C and MDC1D); and a related disorder that occurs spontaneously in mice. In addition, a similar mechanism of disease clearly plays a role in a number of other CMD syndromes of which one was mapped to chromosome 1q (MDC1B), but many more in which the primary defect is unknown.
The widening spectrum of the conditions due to a known gene defect was presented by various participants, and this included milder variants of several conditions typically associated with a congenital onset and with or without brain involvement, which follow a much milder limb-girdle muscular dystrophy course (LGMD2I, LGMD2K, LGMD2L, LGMD2M).
Studies focused on the dysfunction of the genes in the patients, the function of the defective genes and strategies for the identification of the genes responsible for dystroglycanopathies which are still unknown was presented.
One session of the meeting was devoted to the discussion of the existing animal models of dystroglycanopathies; and of therapeutic strategies aimed at reducing muscle degeneration and improving long term outcome for these conditions.
A number of collaborative studies were agreed.
A full report has been published in Neuro Muscular Diseases, for the pdf file please click here
For the full report, click here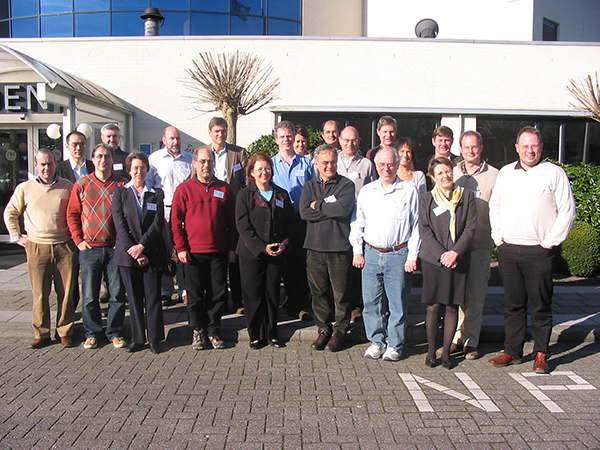 https://www.enmc.org/wp-content/uploads/2018/07/logo-224x300.png
0
0
anymazed
https://www.enmc.org/wp-content/uploads/2018/07/logo-224x300.png
anymazed
2008-02-11 18:00:37
2019-02-03 18:02:02
XIIth International workshop on Congenital Muscular Dystrophy