Towards clinical applications of antisense-mediated exon skipping for DMD
| | |
| --- | --- |
| Number | 194 |
| Date | 10 December 2012 |
Location: Naarden, The Netherlands
Co-sponsored by: the American and Dutch Duchenne Parent Project

With antisense-mediated exon 51 skipping in phase II and III clinical trials and early phase trials targeting additional dystrophin exons ongoing or planned for the near future, the question on how to clinically develop this approach for as much patients as possible in a safe and timely fashion becomes more imminent. Twenty seven key stakeholders from 8 countries including The Netherlands, United Kingdom, Italy, Belgium, USA, Germany, Japan and Australia met in Naarden from December 7-9 2012 for the 194th ENMC International Workshop (the 3rd ENMC Workshop on Antisense Oligonucleotides). The participants included patient representatives, clinicians, academics, representatives from industry involved in exon skipping trials and a representative from the European Medicine Agency –EMA, and discussed:
The state of the art of exon skipping (including eteplirsen and drisapersen)
Concerns of patients and parents regarding the current and future development of this approach
The challenge of a sustainable clinical developmental program for antisense  oligonucleotides to skip additional subsequent exons for increasingly smaller patient subpopulations
The challenge of developing the next generation of compounds and delivery systems targeting skeletal and cardiac muscle more efficiently
Methods to detect antisense oligonucleotides concentration and distribution and response to treatment both in preclinical models and in boys with Duchenne muscular dystrophy.
Functional outcome measures and additional potential biochemical outcome measures that could indicate early response to therapeutic intervention
The challenge of heart delivery
Presentations to introduce and illustrate these topics were given by the participants and discussed extensively.
The following conclusions were reached:
A lot of progress has been made in this field over the past few years
Communication about the status of ongoing trials to the patient community should be improved. Industry representatives present agreed to provide a brief update on ongoing and planned trials every 3 months. The "patient community working group" of TREAT-NMD will translate the information into lay terms and will make this information available to the patient community.
Trials towards approval of exon skipping compounds are still ongoing. Regulators are willing to assess whether class approval and a quicker development path is possible when two compounds of the same class have been approved, but this will depend on the outcome of these ongoing studies.
The next generation of exon skipping compounds shows very promising results in animal models. However, clinical development of these compounds will take time and safety issues have yet to be addressed.
Approval of exon skipping compounds will depend on showing drug efficacy, i.e. functional improvement and/or delayed disease progression, as currently assessed by the 6 minute walk test. Ideally, this should be accompanied by improved muscle strength. Furthermore, patient evaluation of the benefit received will be taken into account.
Additional functional outcome measures are needed, especially for non-ambulant patients.
Dystrophin restoration in a muscle biopsy is a good marker for showing that an antisense oligonucleotide is active, but not necessarily for grading the overall response to treatment. Thus, additional biochemical outcome measures that correlate with efficiency on a functional level would be supportive.
Exon skipping compounds restore dystrophin in muscle, but are less effective in heart. This is cause for some concern and heart function should receive special attention in patients treated with exon skipping compounds.
Patients, investigators and industry are equal partners in all trials and are mutually dependent on each other to continue to advance this field
A full workshop report has been published in Neuromuscular Disorders.
(For a copy of the report, click here).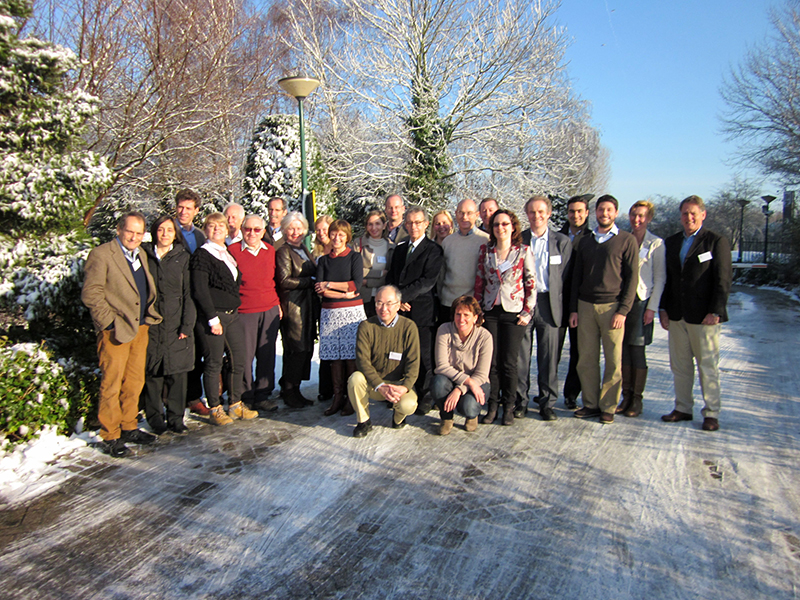 https://www.enmc.org/wp-content/uploads/2018/07/logo-224x300.png
0
0
anymazed
https://www.enmc.org/wp-content/uploads/2018/07/logo-224x300.png
anymazed
2012-12-10 13:59:28
2019-02-03 14:02:50
Towards clinical applications of antisense-mediated exon skipping for DMD