Diagnosis and treatment of Co enzyme Q10 deficiency
| | |
| --- | --- |
| Number | 176 |
| Date | 12 July 2010 |
During the weekend of 9th to 11th July 2010 fifteen clinicians, basic scientists, and pharmaceutical representatives met in Naarden, The Netherlands. The delegates work in seven ENMC member countries and in two non-member countries. The meeting was the first ENMC workshop devoted to the most treatable subgroup of mitochondrial diseases, namely coenzyme Q10 (CoQ10) deficiency.
Background and Aims of the Workshop
Small structures present inside virtually all human cells, mitochondria produce energy to drive chemical reactions within cells. For this reason, they are sometimes referred to as the 'powerhouse' of the cell. CoQ10 is a small molecule that has numerous functions in the cell, including critical roles in mitochondrial energy production and antioxidant defence mechanisms. Some patients with mitochondrial disease are unable to make CoQ10 in their cells and this workshop aimed to improve the clinical recognition, diagnosis, and treatment of these patients.
Outcomes of the Workshop
During the workshop, we discussed the functions of CoQ10 in the body and how low levels of CoQ10 may disrupt these normal functions, resulting in disease. We also discussed new information about how CoQ10 is made, which may impact how we diagnose this condition in the future. We recognized the importance of accurate and rapid diagnosis of this disorder because the outcome appears to be related, at least in part, to how quickly treatment can be initiated. We therefore debated the best methods for the clinical detection and diagnosis of CoQ10 deficiency, and how precise genetic diagnoses can be achieved most rapidly and efficiently. Presentations given by clinicians during the workshop revealed the highly variable clinical features of CoQ10 deficiency; therefore, we concluded that all patients with suspected mitochondrial disease should probably be tested for CoQ10 deficiency, as well as patients with cerebellar ataxia and those with a kidney disease known as steroid-resistant nephrotic syndrome. Plasma CoQ10 levels fail to provide a measure of CoQ10 deficiency in the tissues. The apparent tissue specificity of CoQ10 deficiency also poses a challenge for diagnosis. Sampling of patient fibroblasts and muscle appear to provide a better indication of CoQ10 content, and we concluded that white blood cells should also be sampled.
We talked about cell and animal models that have been developed for CoQ10 deficiency and how these are being used to evaluate possible treatments for this disorder. We discussed the best formulations and dosage for treating CoQ10 deficiency. Our pharmaceutical partners also presented some very preliminary results of early clinical trials that are being carried out in mitochondrial disease, using CoQ10 and related compounds.
How this will Benefit Patients
As a result of the workshop we plan to develop and publish a diagnostic protocol for CoQ10 deficiency, so that clinicians and laboratories around the world can work together to identify patients with this potentially treatable form of mitochondrial disease as rapidly as possible. We will also form an international consortium to improve the genetic diagnosis and treatment of this condition.
 A full report is published in Neuromuscular Disorders.(pdf)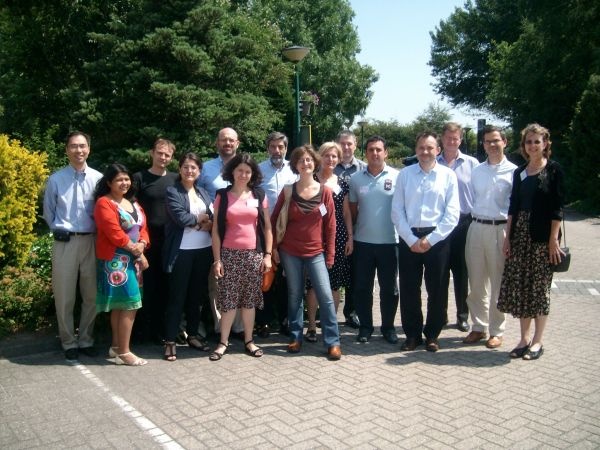 https://www.enmc.org/wp-content/uploads/2018/07/logo-224x300.png
0
0
anymazed
https://www.enmc.org/wp-content/uploads/2018/07/logo-224x300.png
anymazed
2010-07-12 15:14:35
2019-02-03 15:16:09
Diagnosis and treatment of Co enzyme Q10 deficiency