| | |
| --- | --- |
| Number | 162 |
| Date | 30 November 2008 |
The first ENMC workshop on disorders of muscle lipid metabolism hosted a group of experts comprising clinicians and basic scientists. It was attended by 17 participants from 7 countries (Denmark, France, Germany, Italy, The Netherlands, UK and USA). The workshop had the following objectives: 1) to state the diagnostic strategies (clinical, biochemical and molecular) to be used for the diagnosis of disorders of muscle lipid metabolism in adults, 2) to share experience on cases of undiagnosed metabolic myopathies presenting as muscle lipidosis, and to describe diagnostic strategies for such patients, and 3) to state on the current treatments and to plan multicenter treatment trials for these disorders.
These rare diseases are increasingly recognised due to the increased use of tandem mass spectrometry (MS/MS), and the various biological techniques used for diagnostic purpose were presented  in order to find the most useful markers for diagnosis. Clinical phenotypes of the main fatty acid oxidation (FAO) disorders were presented, and diagnostic strategies integrating enzymatic and genetic studies were discussed. Other presentations focussed on the phenotype, pathophysiology and genetic analysis of neutral lipid storage diseases (NLSD). Various therapeutic approaches were discussed, in particular dietary supplementation with triheptanoin, and use of agonists of peroxisome proliferator-activated receptors (PPARs), that are potent pharmaceutical tools stimulating FAO. Plans were made to collaborate on assessment of biological tools and future multicenter therapeutic trials.
A full report is published in Neuro Muscular Diseases (pdf)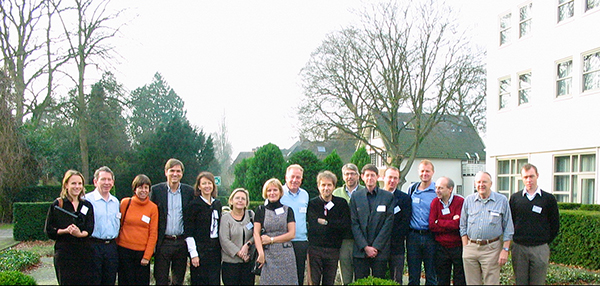 https://www.enmc.org/wp-content/uploads/2018/07/logo-224x300.png
0
0
anymazed
https://www.enmc.org/wp-content/uploads/2018/07/logo-224x300.png
anymazed
2008-11-30 17:49:08
2019-02-03 17:50:26
Disorders of muscle lipid metabolism in adults