Genetic diagnosis, clinical classification, outcome measures, and biomarkers in Facioscapulohumeral Muscular Dystrophy (FSHD): relevance for clinical trials
| | |
| --- | --- |
| Number | 268 |
| Date | 30 September 2022 |
Location: Courtyard by Marriott Amsterdam Airport, Hoofddorp, The Netherlands
Title: Genetic diagnosis, clinical classification, outcome measures, and biomarkers in Facioscapulohumeral Muscular Dystrophy (FSHD):  relevance for clinical trials
Organisers: Dr. Nicol Voermans (NL), Dr Richard Lemmers (NL), Karlien Mul (NL), Julie Dumonceaux (UK).
Participants: Giorgio Tasca (Italy, remote), Sheila Hawkins (UK, patient representative), María Gómez  Rodulfo (Spain, patient representative), Alexandre Méjat (France, patient representative), Jamshid Arjomand (USA, representative patient organisation), Emma Weatherley (Australia, remote), Pilar Camaño (Spain), Valérie Race (Belgium), Emiliano Giardina (Italy), Nienke van der Stoep (NL, remote), Sarah Burton-Jones (UK), Victoria Williams (UK, remote), Frédérique Magdinier (France), Federica Montagnese (Germany, early career researcher), Elena Carraro (Italy, early career researcher, remote), Piraye Oflazer (Turkey), Emma Matthews (UK,  remote), Katy de Valle (Australia, early career researcher), Giulia Ricci (Italy), Bob Bloch (USA), Sabrina Sacconi  (France, remote), Enrico Bugardini (UK), Alexandra Belayew (Belgium), Peter Jones (USA,  remote), Yann Pereon (France), Lorenzo Guizzaro (NL).
translations:
German by Dr Federica Montagnese
Dutch by Dr Karlien Mul
Spanish by Dr Pilar Camaño
French by Dr Yann Pereon
Description and aims of the workshop The 268th ENMC workshop was convened as a hybrid meeting from 30th September till 2nd October 2022 and brought together 31 experts covering a range of specialties from across Europe, United States and Australia to discuss the genetic diagnosis, clinical classification, outcome measures, and biomarkers of FSHD.
Background During the last few years, more than 20 companies have announced the development of a specific program on FSHD. Fulcrum Therapeutics is the only one with an ongoing advanced stage (phase 3) clinical trial with their lead candidate drug "Losmapimod" (a drug that reduces DUX4 expression). Few other companies have announced being at the final preparation of the investigational new drug stage, and several experimental (phase 1/2) clinical trials are expected in the coming years. This development underscores the importance of the collaboration between European experts to reach trial readiness. Therefore, FSHD Europe launched the FSHD European Trial Network (FSHD ETN).[Voermans 2021]
Key points discussed at the meeting
The participants shared their clinical expertise and research undertaken in this area and lively discussion highlighted the following key points:
Working group 1: Genetic diagnosis
An overview of the genetics of FSHD and the different technologies for genetic testing was presented, including the challenges and current limitations
The process of FSHD type 2 (FSHD2) diagnostics was explained, and the consensus definition of FSHD2 was presented: a clinical phenotype of FSHD with highly reduced DNA methylation at the D4Z4 regions on chromosomes 4 and 10 (including an FSHD permissive chromosome) by a pathogenic variant in a chromatin modifier (often SMCHD1)
The process and complexities of pre-implantation after IVF and prenatal genetic testing were discussed
In 2021, the first cycle of quality assessment by the European Molecular Genetics Quality Network (EMQN) took place
Working group 2: Clinical classification and outcome measures
Best practices regarding clinical care for FSHD patients were discussed from an adult and pediatric neurology perspective, and from a rehabilitation perspective
An overview of available clinical outcome measures (both physician- en patient-reported) was presented
A survey was conducted during the meeting about the experience of participants with various clinical outcome measures, and their preferences regarding the use of certain outcome measures
Working group 3: Biomarkers
Biomarkers that are currently used as a marker of disease severity and/or therapy efficacy were presented, the potential interest of each of them was actively discussed
Patient's expectations and regulatory requirements were presented
Lessons learned from the Fulcrum trials were discussed
General:
FSHD Europe, FSHD Global and FSHD Society presented their aims and main projects.
The FSHD Society presented on their experience helping companies recruit for their clinical trials and Sheila Hawkins presented the FSHD European Patient Survey on patient expectations of future trials.
The following recommendations were made:
Working group 1: Genetic diagnosis
In order to obtain minimal clinical information at the moment of genetic testing, a standardized genetic test form will be implemented. This will be supplied to all clinicians who request genetic testing.
The list of genetic centres performing FSHD diagnostics will be extended and placed at the FSHD Europe website, including the techniques available. This is expected to improve accessibility to genetic testing across Europe, and enable other centres to contact these centres.
The ENMC best practice guidelines on genetic testing in FSHD will be updated. This will replace the version of 2010.[Lemmers, 2011]
Given the complexities of genetic diagnosis and potential implications for pre-implantation genetic diagnosis (PGD) and prenatal testing, clinicians need to ensure family planning is discussed early. Transition from child to adult care needs to ascertain young adults are fully informed of the genetic implications of their FSHD and have the opportunity to discuss intimate relationships and contraception.
An International survey among neurologists and clinical geneticists on the difficulties in genetic testing of FSHD will be performed in order to raise awareness of the importance of clinical information at a testing request.
WG1 will continue periodic virtual meetings to work on the deliverables above and for training purposes of centres that are less experienced.
Working group 2: Clinical classification and outcome measures
Periodic virtual meetings will be continued in order to reach consensus on an optimal set of outcome measures that can be used in clinical trials but also in current practice.
Additionally, the working group will work on a clinical evaluation form to be used in clinical practice for FSHD.
More colleagues with experience in care and research for pediatric FSHD patients will be involved in the working group to make sure that the pediatric perspective is appropriately represented.
Outcome measures performed in a clinic setting must be balanced with what the patient wants from their appointment and not detract from therapy time.
Working group 3: Biomarkers
WG3 will establish Standard Operating Procedures (SOPs) for DUX4 detection.
Guidelines about minimum information for publication of work including animal models for FSHD will be published.
WG3 will build and spread among researchers a questionnaire to identify gaps in the development of biomarkers for FSHD.
General:
Various possibilities of collaboration between FSHD Europe, FSHD Society and FSHD global were discussed, including translation of the extensive information on the website of FSHD Society into various languages (for the FSHD Alliance Website) and reaching out to countries not yet actively involved.
The FSHD Society will discuss with FSHD Europe and the ETN in which way they can collaborate in the organization of the FSHD International Research Conferences, and if a patient conference can take at the same time (FSHD Connect).
The different networks (TREAT-NMD, ETN, CTRN (FSHD Clinical Trial network)) aim to collaborate as much as possible for generic topics and operate regionally when necessary, all reaching towards the same aim.
 References
Best practice guidelines on genetic diagnostics of Facioscapulohumeral muscular dystrophy: workshop 9th June 2010, LUMC, Leiden, The Netherlands. Lemmers RJ, O'Shea S, Padberg GW, Lunt PW, van der Maarel SM. Neuromuscul Disord. 2012 May;22(5):463-70.
Voermans NC, Vriens-Munoz Bravo M, Padberg GW, Laforêt P; FSHD European Trial Network workshop study group, van Alfen N, Attarian S, Badrising UA, Bugiardini P, Camano González P, Carlier RY, Desguerre I, Diaz-Manera J, Dumonceaux J, van Engelen BG, Evangelista T, Khosla S, Lópezde Munain A, van der Maarel SM, Mejat A, Monforte M, Montagnese F, Mul K, Oflazer P, Porter B, Quijano Roy S, Ricci E, Sacconi S, Sansone VA, Schoser B, Statland J, Stumpe E, Tasca G, Tawil R, Turner C, Vissing J.Neuromuscul Disord. 2021 Sep;31(9):907-918.
1st FSHD European Trial Network workshop: Working towards trial readiness across Europe.
A full report will be published in Neuromuscular Disorders (PDF).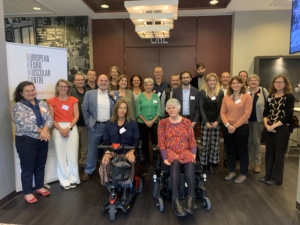 https://www.enmc.org/wp-content/uploads/2018/07/logo-224x300.png
0
0
ENMC
https://www.enmc.org/wp-content/uploads/2018/07/logo-224x300.png
ENMC
2022-09-30 09:24:32
2023-08-29 17:53:56
Genetic diagnosis, clinical classification, outcome measures, and biomarkers in Facioscapulohumeral Muscular Dystrophy (FSHD): relevance for clinical trials