Outcome Measures in McArdle Disease
| | |
| --- | --- |
| Number | 144 |
| Date | 16 October 2006 |
144th International ENMC workshop on "Outcome Measures in McArdle Disease" (29 September - 1 October 2006)
Sixteen clinicians and scientists from seven countries met for the first time to develop an international consortium for McArdle disease and to agree on outcome measures for future clinical trials.
At the start of the meeting each group identified resources available to them and the numbers of patients under their care with the condition. A total of 297 patients were identified. A clinical and metabolic overview of the condition was presented together with some case histories of atypical phenotypes. An update of the genetic mutations identified so far was presented with regional variations identified. An overview of previous clinical trials was presented as outlined in a systematic review for the Cochrane database. In addition, further studies were discussed which included: aerobic training, pre-exercise glucose supplementation, creatine supplementation, ketogenic diet, Ace inhibitors, resistive training and carbohydrate diet. A presentation was given of a novel agent currently being trialled in the USA for Duchenne Muscular Dystrophy and some useful overlaps were identified with McArdle disease.
Various outcome measures were presented including: Cycle ergometry, walking assessment, 31P-MRS, NIRS, 31C-MRS, self reported questionnaires and biochemical evaluations in blood and muscle.
It was agreed that future evaluations would include cycle ergometry, a shortened walking assessment, strength testing, self evaluation questionnaires, genetic and biochemical analysis on blood and muscle. A detailed multi-centre evaluation of the clinical phenotype of McArdle disease would be undertaken by the participating groups to be completed by august 2007. The group would aim to reconvene soon afterwards.
A full report of this meeting is published in Neuro Muscular Diseases. (pdf)
Participants:
Professor R Beynon, Dr C Bruno, Dr R Finkel, Dr R Haller, Dr D Hilton-Jones,
Dr P Laforet, Dr M Martin, Dr A Martinuzzi, Dr A Mulas, Dr M Orngreen, Dr P Portero, Dr R Quinlivan, Dr B Schoser, Dr J Vissing, Dr M Vorgerd, Dr J Zange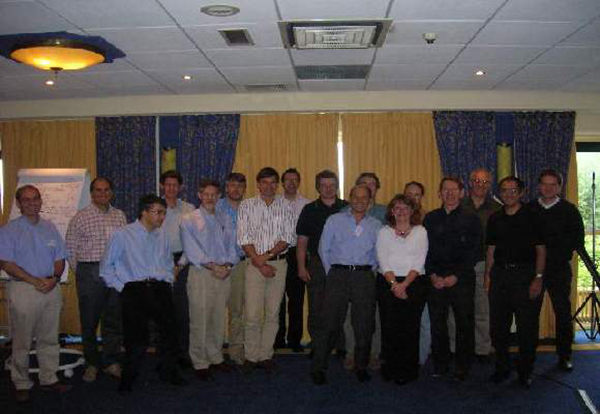 https://www.enmc.org/wp-content/uploads/2018/07/logo-224x300.png
0
0
anymazed
https://www.enmc.org/wp-content/uploads/2018/07/logo-224x300.png
anymazed
2006-10-16 18:38:18
2019-02-03 18:39:20
Outcome Measures in McArdle Disease