Protein Aggregate Myopathies (PAM)
| | |
| --- | --- |
| Number | 246 |
| Date | 24 May 2019 |
Location: Hoofddorp, the Netherlands
Title: 246th ENMC International Workshop on Protein Aggregate Myopathies (PAM)
Date: 24-26 May 2019
Organisers:  Prof. R. Schröder (Germany) and Dr M. Olivé (Spain)
Translations of this lay report:
German by Dr L. Winter
French by Dr A. Behin
Japanese by Dr S. Noguchi
Spanish by Dr M. Olivé
Dutch by Prof. K. Claeys
Swedish by Prof. A. Oldfors
Finnish by Prof. B. Udd
Participants:  Dr A. Behin (France), Mr M. Brumhard (Germany), Prof. R.J. Bryson-Richardson (Australia), Prof. K.G. Claeys (Belgium), Dr A. Ferreiro (France), Prof. D.O. Fürst (Germany), Prof. H.H. Goebel (Germany), Dr V.A. Gupta (U.S.A.), Dr R.A. Kley (Germany), Dr A. Mankodi (U.S.A.), Dr S. Noguchi (Japan), Prof. A. Oldfors (Sweden), Dr M. Olivé (Spain), Prof. R. Schröder (Germany), Dr D. Selcen (U.S.A.), Prof. V. Timmerman (Belgium), Prof. B. Udd (Finland), Prof. M.C. Walter (Germany), Dr G. Wiche (Austria), Dr L. Winter (Austria).
Twenty participants including one patient representative from European countries, USA, Australia and Japan attended the 246th ENMC sponsored workshop focusing on protein aggregate myopathies (PAM).
Protein aggregate myopathies are a group of neuromuscular disorders marked and defined by the detrimental accumulation of proteins in striated muscle fibers based on defects in a wide variety of genes. The disease manifestations vary from childhood to late adulthood with clinical presentations ranging from congenital myopathies to generalized patterns of muscle weakness and wasting. Non-skeletal muscle disease manifestations (e.g., cardiomyopathy, respiratory failure, cataracts, skin blistering, frontotemporal dementia, Paget disease of bone, neuropathies) are typically found in distinct PAM sub forms. To date, no effective treatments exist for this group of diseases.
The aim of the ENMC workshop was to promote a multidisciplinary contact and discussion between clinical and basic researchers working on PAM-related issues. The attending experts discussed recent discoveries of new and established disease entities, the morphological spectrum of protein aggregation and new pathophysiological and pharmacological treatment aspects derived from respective animal and cell models. Despite recent technical advances in genetic testing approaches and the fact that many genes and mutations have already been characterized for PAM, the discussion highlighted that the genetic diagnosis of PAM can be very challenging and that many genetically unsolved cases still remain. The debate on the guidelines for diagnosis and classification on these conditions further demonstrated that this highly heterogeneous group of myopathies currently defies clear definition and thus classification. Ongoing preclinical evaluation of pharmacological studies in different PAM animal models shall help to pave the way to new treatment options for affected patients. To learn more about the natural history of individual PAM and to promote the trial readiness for this rare group of diseases, it was also discussed to enlarge the national German patient registry to an international scope.
Major outcomes / benefits for PAM patients:
Improved comprehension of distinct and shared disease mechanisms in various PAM sub forms
Exchange of knowledge and data amongst participating experts
Establishment of new scientific collaborations amongst this group
Generation of an English version of the German PAM registry
Concord to promote efforts for more treatment orientated preclinical research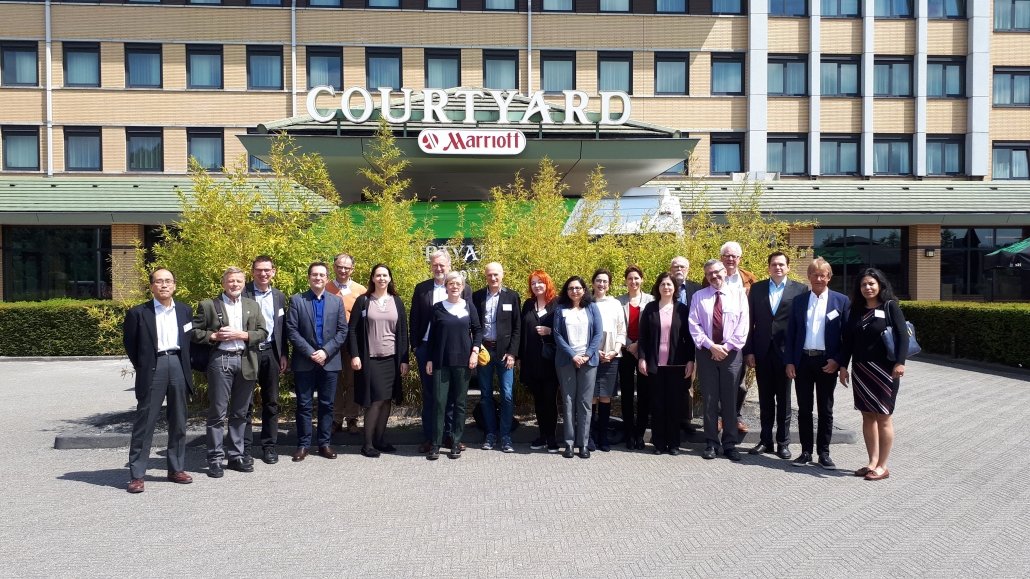 Participants of the 246th ENMC workshop on Protein Aggregates Myopathies, taking place in the Courtyard hotel in Hoofddorp, The Netherlands
The full report is published in Neuromuscular Disorders (PDF)
https://www.enmc.org/wp-content/uploads/2018/07/logo-224x300.png
0
0
Alexandra Breukel
https://www.enmc.org/wp-content/uploads/2018/07/logo-224x300.png
Alexandra Breukel
2019-05-24 17:30:24
2023-08-30 12:18:43
Protein Aggregate Myopathies (PAM)