Randomised trials of treatment for chronic inflammatory demyelinating polyradiculoneuropathy and multifocal motor neuropathy
| | |
| --- | --- |
| Number | 129 |
| Date | 27 October 2004 |
There is uncertainty about the best treatments for two important diseases causing peripheral neuropathy: chronic inflammatory demyelinating polyradiculoneuropathy (CIDP) and multifocal motor neuropathy (MMN). Consequently, there is a wide treatment variation in practice. Under the leadership of Richard Hughes (London), Eduardo Nobile-Orazio (Milan), and Ivo van Schaik (Amsterdam), 12 experts from 6 European countries assembled at Schiphol Airport, Amsterdam on October 27th to decide on the design of trials to demonstrate the efficacy of drugs in suppressing the immune response and treating these diseases. The group considered all the candidate drugs and chose two for further consideration. Negotiations with pharmaceutical companies will now take place before making the final choice.
The essential elements of the protocols for two randomised trials were debated and agreed upon. The trials will use change in disability as their primary outcome measures. The scales to be used will include a simple overall disability scale used by the workshop attendees in previous trials, and a new disability scale which has been developed at the University of Amsterdam and promises to reflect the problems experienced by patients more precisely. Health economic measures will be collected to allow assessment of the cost-effectiveness of the new drugs. The trials will take into account the rigorous new regulatory requirements of the EU Clinical Trial Directive which came into force in May 2004.
The professional experts wish to acknowledge the help of Ms. Patricia Blomkwist of the Dutch Guillain-Barré syndrome support group who represented the patients' interests at the meeting. After one more workshop to consider the outcome measures in more detail in December 2004, the workshop members will submit a formal grant proposal to a major national research council with a view to starting trials in early 2006.
Click here to read the full report of this workshop as published has been published in Neuromuscular Disorders.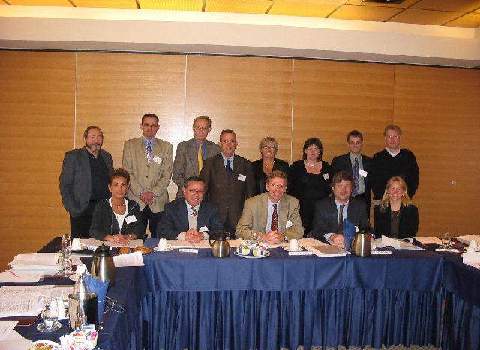 https://www.enmc.org/wp-content/uploads/2018/07/logo-224x300.png
0
0
anymazed
https://www.enmc.org/wp-content/uploads/2018/07/logo-224x300.png
anymazed
2004-10-27 18:00:51
2019-02-03 18:10:24
Randomised trials of treatment for chronic inflammatory demyelinating polyradiculoneuropathy and multifocal motor neuropathy