Revisiting the consensus statement for standards of care in SMA
| | |
| --- | --- |
| Number | 218 |
| Date | 19 February 2016 |
Location: Naarden
This workshop was made possible with the generous support from:




With preparatory work by:

and Webex support from:

Twenty-one clinical researchers from seven different countries (USA [7], UK [6], Italy [3], Germany [2], France [1], Sweden [1], Denmark [1]), 2 ENMC representatives, 4 representatives of patient advocacy groups (SMA Europe- one patient and one parent of affected children), SMA Foundation [1], Cure SMA [1]), met in Naarden, The Netherlands, on the weekend of the 19th-21st of February 2016. The agenda was to review and update the 2007 standard of guidelines for spinal muscular atrophy (SMA). The workshop was conducted under the leadership of Richard Finkel, Eugenio Mercuri and Thomas Sejersen. The workshop was supported by the 9 ENMC member organizations, 3 partner organizations (SMA Europe, SMA Foundation and Cure SMA), and pharmaceutical company support from AveXis for teleconferencing.
SMA is one of the most common neuromuscular diseases and represents a spectrum of ages and impairments, ranging from infants unable to sit, to children and adults who can walk. SMA has related breathing, feeding/nutrition and orthopedic complications, especially in younger children. There have been noticeable improvements in management of these patients over the past two decades, resulting in improved survival, and maximization of functional capacity. While there is currently no cure for SMA, the evolving understanding of the genetic bases of this disease has inspired several drug treatments that are now in clinical trials. Providing optimal supportive management allows each patient with SMA the prospect of engaging in these new clinical trials, and the opportunity to have a longer, healthier, and more fulfilling life.
This workshop focused upon 8 topics, each with a working group of 2 or 3 co-leaders who then selected approximately 10 international experts on that topic to participate in a structured review and discussion. Detailed literature review of available information preceded the working group's expert opinion process, which utilized the Delphi technique, a structured sequential analytic process,  to arrive at a group consensus. Input from patient representatives and several pharmaceutical companies working on drug development for SMA was invited. Work was done in advance of the workshop. These 8 groups were:
Diagnostics and Genetic Counseling
Pulmonary
Acute care management in the hospital setting
Orthopaedics  (spinal curvature, joint contractures, fractures)
Physical Therapy and Rehabilitation
Gastrointestinal and Nutrition
Other organ systems involved in SMA
Ethical considerations and Palliative Care.
Each working group presented a summary of their preliminary work at the workshop, which was then discussed by the group at large. This consisted of the organizers, most of the working group leaders, patient/parents and patient advocacy representatives. A WebEx was set up to allow other working group leaders and pharmaceutical representatives to listen to the proceedings, and participate in the open discussion sessions. Additional work was identified for each working group following the workshop. An additional topic of medication use in SMA will also be addressed. The final recommendations of each working group will then be completed and a comprehensive summary will be published shortly thereafter. Family-friendly versions will be created and placed on advocacy group websites for easy public access.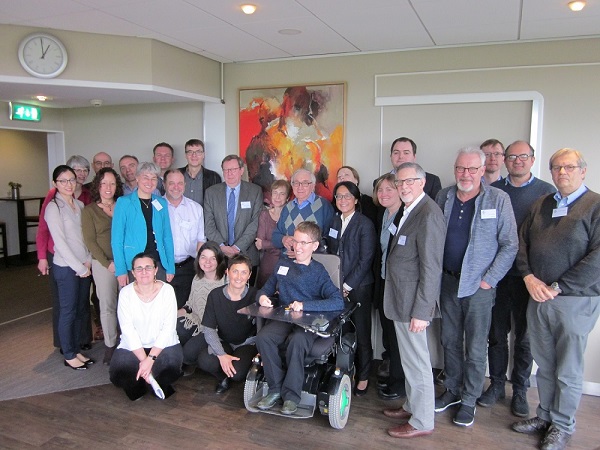 The workshop generated enthusiastic support from the participants and achieved its initial objectives. These updated standard of care recommendations will provide a new framework for the evaluation and management of the most important aspects of SMA, promote improved quality of life for these patients, and reduce the burden of care for their caregivers.
A full report is published in Neuromuscular Disorders (pdf).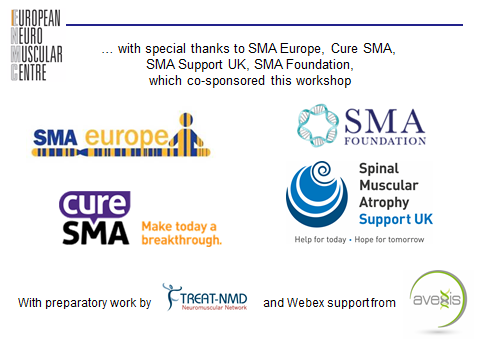 https://www.enmc.org/wp-content/uploads/2018/07/logo-224x300.png
0
0
anymazed
https://www.enmc.org/wp-content/uploads/2018/07/logo-224x300.png
anymazed
2016-02-19 14:27:42
2019-10-01 15:06:40
Revisiting the consensus statement for standards of care in SMA