SMA outcomes and clinical trial readiness
| | |
| --- | --- |
| Number | 209 |
| Date | 7 November 2014 |
Location: Heemskerk
Co-sponsored by the SMA Foundation, ZonMw, Cure SMA and SMA Europe




Twenty-four researchers and industry representatives from 9 different countries (USA, Spain, Italy, France, Germany, Switzerland, Sweden, the Netherlands, United Kingdom), two representatives of SMA Europe (one patient, one parent of 2 SMA affected children) and one representative from SMA Foundation, met in Holland on the weekend of the 7th- 9th of November 2014. They came together to update current knowledge on clinical trials and outcome measures for spinal muscular atrophy (SMA). The workshop was conducted under the leadership of Richard Finkel, Enrico Bertini, Francesco Muntoni and Eugenio Mercuri.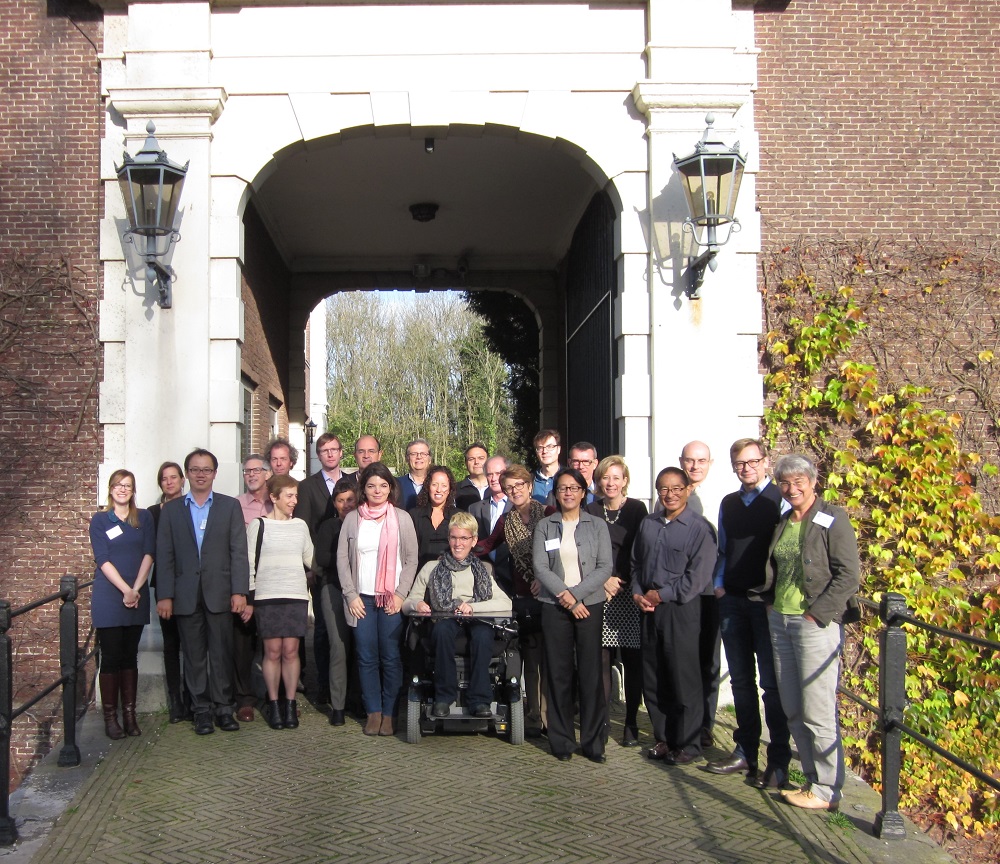 SMA is one of the most common neuromuscular diseases and -since last ENMC workshop on this condition held in 2007- there has been noticeable improvement on the understanding of its pathogenesis and natural history. Moreover, some clinical trials have been recently completed or are ongoing, and others are at advanced planning stages. This progress has highlighted the need for a better definition of outcome measures and to improve clinical trial readiness.
In this workshop, participants presented new data related to the fundamental deficiency of the SMN protein and where high levels of SMN are required. In severe SMA mice pathological changes can be detected outside the central nervous system but it remains unknown how relevant these changes are for the human condition
Novel information was provided on experimental therapeutic developments in different animal models, also focused on defining when during development the pathological process has its onset and at which stage restoration of SMN protein is likely to result in a beneficial response. New information on involvement of regions of the nervous system other than motoneurons was presented, including neuropathological data in children with SMA type 1 showing pathological alteration in the thalami. Information on electrophysiological and serum biomarkers was presented, including their correlation to clinical outcomes, both in preclinical models and in SMA patients. Differences in diagnostic tests being used worldwide and in gene modifiers were discussed.
A significant portion of the workshop was devoted to the discussion on the different functional tools available to capture the heterogeneous nature of the disease, which spans from severe SMA type 1, to milder SMA types 3 and 4. Information on differences in the clinical course of disease in the childhood types was discussed, together with the challenges to capture meaningful and reliable information in a population that ranges from severely affected infants, to children who are able to sit, to young adults who can walk. The importance to keep these populations separate for trial design was highlighted by all participants.
Gaps in knowledge and need of further development and validation work were identified, especially linking different levels of functional abilities of affected individuals, and on the correlation between some of the functional and surrogate measures to minimally clinically meaningful differences. The discussion also included the important question what "clinically meaningful" means to patients, parents, doctors and scientists.
A series of collaborative strategies to address these points were discussed and agreed, and these will be summarized in the full workshop report is submitted for publication to Neuromuscular Disorders (pdf).
Participants:
Richard Finkel, Francesco Muntoni, Eugenio Mercuri, Enrico Bertini, Arthur Burghes, Karen Chen, Mencia de Lemus, Jean-Yves Hogrel, Omar Khwaja, Jan Kirschner, Marion Main, Elena Mazzone, Jackie Montes, Danielle Ramsey, Thomas Sejersen, Charlotte Summer, Kathryn Swoboda, Danilo Tiziano, Brian Tseng, Ludo Van der Pol, Carole Vuillerot, Brunhilde Wirth, Anna Wittchen, Danny Yeh.
https://www.enmc.org/wp-content/uploads/2018/07/logo-224x300.png
0
0
anymazed
https://www.enmc.org/wp-content/uploads/2018/07/logo-224x300.png
anymazed
2014-11-07 12:33:51
2019-02-03 12:37:49
SMA outcomes and clinical trial readiness