The Selection of Outcome Measures for Peripheral Neuropathy Clinical Trials
| | |
| --- | --- |
| Number | 131 |
| Date | 10 December 2004 |
This workshop took place from December 10th-12th, 2004 in Naarden, The Netherlands. There were 23 researchers from 5 different countries, including pharmaceutical industry-based scientists and a patient representative of the Guillain-Barré Syndrome Foundation International. The workshop was conducted under the leadership of Ingemar Merkies and Giuseppe Lauria.
There is currently no consensus regarding specific outcome measures (the instruments used to measure treatment response) to be applied in peripheral neuropathy clinical trials. The workshop aimed to address the principles underlying the choice of outcome measures in immune-mediated neuropathies (including Guillain-Barré syndrome, chronic inflammatory demyelinating polyradiculoneuropathy, and multifocal motor neuropathy), diabetic neuropathy, hereditary neuropathies, and painful neuropathies.
The workshop participants agreed that each different disease and each intervention required individual consideration, that outcome measures should have been appropriately validated, and that safety should always be considered. The workshop participants suggested a minimum core set of domains to be tested for each disease and gave examples of outcome measures to be considered for each domain. The workshop suggested outcome measures which required comparison and diseases for which no outcome measures had been validated.
Participants:
Dr. J. Arezzo, Dr. E. Bastyr, Ms. P. Blomkwist, Prof. M. Boers, Prof. D. Cornblath, Dr. D. Cros, Prof. P. Dyck, Prof. E. Feldman, Dr. T. Ho, Prof. R. Hughes, Dr. G. Lauria, Prof. J-M Leger, Dr. I. Merkies, Prof. J. McArthur, Prof. E. Nobile-Orazio, Dr. L. Padua, Dr. G. Parks, Dr. Pareyson, Dr. M. Reilly, Prof. P. van Doorn, Dr. I. Van Schaik, Prof. Vermeulen.
Acknowledgements:
This workshop was made possible thanks to the financial support of the European Neuromuscular Centre (ENMC) and ENMC main sponsors:
Association Française contre les Myopathies (France)
Deutsche Gesellschaft für Muskelkranke (Germany)
Telethon Foundation (Italy)
Muscular Dystrophy Campaign (UK)
Muskelvindfonden (Denmark)
Prinses Beatrix Fonds (The Netherlands)
Schweizerische Stiftung für die Erforschung der Muskelkrankheiten (Switzerland)
Österreichische Muskelforschung (Austria)
Vereniging Spierziekten Nederland (The Netherlands)
Pharmaceutical industry sponsors:
Baxter BioScience
Bayer Healthcare LLC
Eli Lilly and Company
Merck & Co., Inc.
Mitsubishi Pharma America, Inc.
Sankyo Pharma Inc.
A full report is published in Neuro Muscular Diseases. (pdf)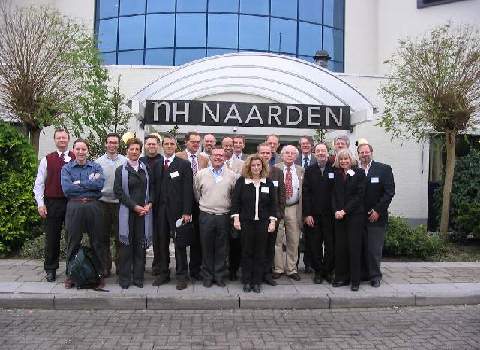 https://www.enmc.org/wp-content/uploads/2018/07/logo-224x300.png
0
0
anymazed
https://www.enmc.org/wp-content/uploads/2018/07/logo-224x300.png
anymazed
2004-12-10 18:12:59
2019-02-03 18:15:09
The Selection of Outcome Measures for Peripheral Neuropathy Clinical Trials