This meeting was attended by 23 participants from 7 countries.
New information was presented that could help in changing the consequences of the SMN gene defect on the phenotype of Spinal Muscular Atrophy (SMA).
Moreover various animal models of the disease, produced by manipulations that altered the genes of the mouse so as to resemble SMA human disease, were discussed.
Proposals as to how these animal models could be used to develop effective treatment of SMA were discussed.
The following questions were addressed:
How can a partial defect but not complete absence of SMN be responsible for neuromuscular malfunction?
Among various functions of the SMN protein, which one is producing the symptoms characteristic of SMA?
There are now efficient in vitro tests that could identify compounds which could repair the gene defect. The next challenge is to evaluate the potential benefit of some of the molecules which have been identified in vitro alone or in combination as beneficial on mouse models.
In addition a better understanding of factors that control motor neuron and muscle survival may lead to alternative and attractive therapeutic approaches.
Future research should cover methods of optimizing muscle function in these children as well as attempting to correct the molecular defect.
The participation of scientists from different fields and clinicians may lead to a more concerted effort to find rational therapy of the disease. It is hoped that complementary approaches communicated at the Workshop will lead to more rapid progress in achieving improved management and treatment of patients.
An extended report of this meeting is published in Neuromuscular Disorders, Volume 13, No. 2, February 2003.
Prof. G. Vrbová (London, UK)
Dr. J. Melki, (Paris, France)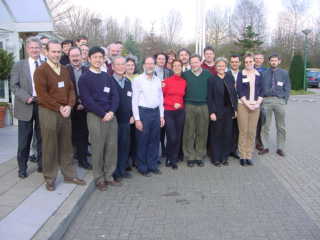 https://www.enmc.org/wp-content/uploads/2018/07/logo-224x300.png
0
0
anymazed
https://www.enmc.org/wp-content/uploads/2018/07/logo-224x300.png
anymazed
2002-01-18 13:43:45
2019-02-03 13:45:32
Designing rational therapy of SMA based on understanding of its pathophysiology