Location: Heemskerk
This workshop was co-sponsored by:




Consensus reached on a global FSHD registry. Global FSHD consortium created
Lay Summary
If you are an individual with FSHD, or a family member, you may have been asked to join a patient registry. Perhaps you are wondering what a registry is?
Disease registries are an essential tool for advancing research to understand a disease, improve patient care, and develop treatments. Typically, registries collect patient contact information, and demographic and diagnosis data. In addition, registries may collect varying amounts of data about your health and symptoms. The data will be anonymized and accessible only by authorized individuals, to protect the privacy of patients and families who participate.
In the FSHD field, there are patient registries in at least 13 countries. On the one hand, that's great news. On the other hand, having data on this rare disease scattered across so many registries that work in isolation is a cause for concern. Ideally, FSHD patient data from around the world should be collected in a single global registry or a federation of national registries that could talk to one another, so that we have data from as many patients as possible, gathered in a uniform way using the latest standards for diagnosing and describing the condition.
A group of registry curators worked with the FSHD Champions, an international alliance of FSHD patient advocacy organizations, to organize an international workshop to discuss how to move toward this vision of a global FSHD registry. We all agreed that the key goals for this registry are to:
Accelerate research to understand and treat FSHD;
Empower patients to gain insights from the data about their condition and improve their health and quality of life.
This second point is very important. Traditionally, registries have not given information back to patients. Doing so takes considerable thought and work, but we all feel strongly that providing this information to patients and families is an obligation we owe to the patient community.
Over the three-day workshop (November 18-20, 2016) supported by the European Neuromuscular Center (ENMC), 23 individuals from the U.S., Canada, U.K., France, Italy, Spain, the Netherlands, Czech Republic, Australia, New Zealand, representing academia, industry, and patient advocacy groups, gathered to review current FSHD registries.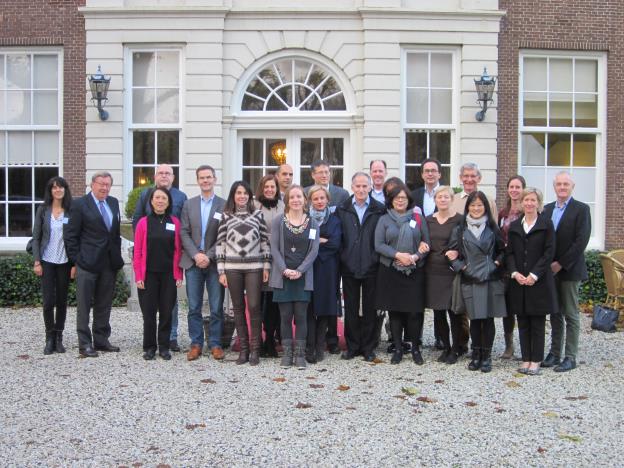 The participants of the 225th ENMC workshop on "A global FSHD Registry Framework"
We discussed issues in clinical and genetic diagnosis, and ideas for how to evolve from the current 13 registries toward a global network with a way to aggregate data from multiple registries. There was a powerful desire among the participants to collaborate and arrive at a consensus on a number of essential topics. We are happy to report that we delivered on our aims, and more.
The workshop attendees agreed on an updated list of "core data elements" (information that are considered fundamental for the description of disease in each subject) that all registries should collect, and drafted a set of questions that will enable patients to supply this data to registries. We plan to publish the new core data elements in the Neuromuscular Disorders journal and distribute them to all FSHD registry curators.
Very importantly, while FSHD patients show a very wide range of symptoms and severity, the new core data elements focus on a small subset of signs that are mostly likely present in an FSHD patient. This ensures that the registry will not exclude any FSHD patient, while limiting the number of questions that patients would need to answer about their clinical status.
We also agreed on a genetic definition of FSHD that reflects our latest knowledge of FSHD genetics. This allows for "non-penetrant" and "asymptomatic" individuals to be defined as carriers of FSHD based on their genetics, but who have no symptoms or have such mild symptoms that the individual does not notice them. This is important to isolate elements (genetic or environmental) that can interfere with the appearance of disease symptoms. It also excludes patients who appear to have FSHD but lack of what it is now considered the essential genetic basis for FSHD.
In addition, we agreed that FSHD registries should serve as a platform for research. By time-stamping patients' updated information (rather than overwriting old information with new), a registry can track changes in patients' health and symptoms over time. Researchers can send surveys to registry participants to gain insight into a wide range of topics, from pain management, the effects of exercise, diet, and medications, the impact of pregnancy and menopause, and so on. We agreed that such research surveys should be shared among the registries so that they can be used in different populations.
Buoyed by this success, we went even further. Dr. George Padberg proposed that an international consortium be formed to continue the work. Workshop organizers Rossella Tupler (Italy), Baziel van Engelen (The Netherlands), Hanns Lochmuller (UK), and June Kinoshita (USA, patient advocacy representative) were asked lead the new consortium, joined by Drs. Rabi Tawil (USA).
The new organization will be called the FSHD Consortium. The name leaves open the possibility of expanding beyond registries to drive international collaboration on a variety of future research studies and initiatives.
Establishment of the global registry and FSHD Consortium will enable us to achieve greater clarity on the nature of FSHD and on factors that can make a difference to patients' health and quality of life.
Acknowledgements: We thank the European Neuromuscular Center for a generous grant to support the workshop. The FSH Society, FSHD Stichting, and Friends of FSH Research provided additional support.
A full report of this workshop is published in Neuromuscular Disorders (pdf)
List of FSHD Champions members:
| | |
| --- | --- |
| FSHD Champions members | Country |
| Amis FSHD | France |
| Chris Carrino Foundation | USA |
| Friends of FSH Research | USA |
| FSH Society | USA |
| FSHD Canada Foundation | Canada |
| FSHD Europe | EU |
| FSHD Global Research Foundation | Australia |
| FSHD Stichting | The Netherlands |
| FSHD Champions Allies | Country |
| AFM Telethon | France |
| Muscular Dystrophy Association | USA |
| Muscular Dystorphy Campaign | UK |
| MD Canada | Canada |
| National Institutes of Health | USA |
| Prinses Beatrix Spierfonds | The Netherlands |
| Spieren voor Spieren | The Netherlands |
https://www.enmc.org/wp-content/uploads/2018/07/logo-224x300.png
0
0
anymazed
https://www.enmc.org/wp-content/uploads/2018/07/logo-224x300.png
anymazed
2016-11-18 13:59:04
2019-02-18 16:06:24
A global FSHD registry framework